Other Products / Services
Master Flash® Roof Flashings

Slides over pipe – for pitch to 45 degrees
Use silicone sealant between base and surface, and secure with sheet metal screws
Multi-size pipe sealing range
Molds to metal, plastic, etc.
Non-fading EPDM collar
Rated 212°F continuous heat
Approved for Type B installations
Call for Pricing.
2300 Construction Tripolymer Sealant

A single component, high-performance elastomeric sealant for use in a wide variety of roofing, trim, architectural metal, manufacturing, underdeck system, solar roof system, and general construction applications.
Call for Pricing.
Reviver Systems™ Earth Safe Cleaning Line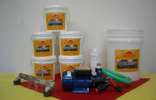 Biodegradable and eco-friendly
Will NOT harm landscaping
Special formula designed to conquer each exterior cleaning project
Recommended by experts in home improvement
Award winning
The safest and most effective way to maintain your home's curb appeal and increase your property value
Roof Reviver
Call for Pricing.
Fastenal Deck Screws

Call for Pricing.
Fasteners for Metal Roofing
1/4″ hex washer head rubber washer provides a leak-proof seal many colors and sizes available.
Call for pricing and availability.
Roof Inspection Services:
Ryan Morse, President of The Metal Roof Outlet and Founder of The NYS Metal Roofing Co-Op is a certified asphalt and metal roof installer.  Ryan is the preferred and certified Roof Inspector for The Better Contractor's Bureau.  His Inspection services are available for homeowners, property owners, contractors, building code inspectors, realtors, home inspectors, fire departments and others.  Fees are based on location and complexity.
Please call 585-703-4982 to inquire about Inspection Services.
The Metal Roof Outlet
1513 Empire Blvd
Webster, NY 14580
Showroom Open:
Thursday 9am - 3pm (walk-in)
Friday - Saturday (by appointment)
Phone: (585) 703-4982